A Classic Italian dish you can learn online now! Join this class and start learning in a fun, interactive, small group or private setting.
---
Pasta Arrabiata literally means 'angry pasta' in Italian.
Wondering why? If you have ever ordered it in a restaurant in Italy, you will know that Italians like their 'arrabbiata' hot…very hot!
Unless you have a tough tummy, after a few bites, you will undoubtably turn red, looking like a teacher about to scold a very badly-behaved classroom, hence the name.
Healthy, easy to make, hearty and absolutely delicious, this dish may not be for the faint of heart, but making it at home means you can adjust the level of anger in this bad boy, so join us in the fun!
---
About your hands-on, interactive cooking class.
Let's share time together (insieme) in the kitchen!
Join a group and meet new friends or request a private class at your preferred date and time.
Enroll now and receive the ingredient list and a confirmation email with the link to a password-protected Zoom session.
Classes are approximately 1 1/2 hours, hands-on, fully interactive and fun!
So get ready, roll up your sleeves and ask as many questions as you like while you work together with your Italian Chef.
We look forward to sharing great moments! See you soon!
---
all.sign in to leave a review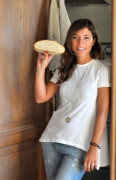 Enrica Della Martira
Curious, unquenchable and a true bon vivant - this is Enrica! Her passion for cooking was born over the course of countless epic Sunday lunches, where classic Italian home-cooking filled the tables, and moments of great joy and conviviality were the order of the day. Enrica's love of cooking and bringing people together over delectable meals was critical in her culinary development. This zest ultimately brought her to participate in the TV program, Master Chef TV, in 2014. After this unique experience, Enrica's worlds took on more defined culinary orbits. In 2015, her book "Bruschetta o Scarpetta" (Mondadori) was published and greatly well-received. Enrica then launched her blog, began leading cooking courses and events. In 2019, Enrica paired with the Food Network Channel to develop and host her show "Pane, Olio e Fantasia." Today, we're honored to have Enrica as part of the awesome Mama Blip team.