A live cooking class online to make the best Pollo alla Cacciatora ever. Join others and have fun, ask questions and cook hands-on with your chef, live.
---
Pollo alla cacciatora is one of my absolute favourite chicken dishes, which was cooked at home by my Mamma, when she decided to trick us into eating something healthier than usual.
For those wondering, Cacciatore is pronounced cah-cha-toe-ray, which means 'hunter' in Italian. It is in fact thought that the first Chicken Cacciatore was not made with chicken at all, but with wild game sometime during the Renaissance period.
Chef Michele will teach you all the tricks for making this, rich, tomatoey and packed with flavour second course dish which, if made in large quantities, is even more delicious the next day!
---
---
all.sign in to leave a review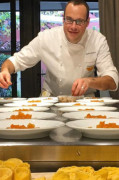 Michele Berlendis
Chef Michele Berlendis is the hands and heart of MaMa Florence, since he joined the team in 2016. A native-born Tuscan, he attended a technical school specializing in hospitality and during weekends, worked in a local restaurant where his passion for the kitchen was born. His most significant formative restaurant experience was working alongside chef Filippo Saporito, who he defines as his culinary guru, at La Leggenda dei Frati. After honing his skills, Michele moved to Berlin where he worked at the premier Italian restaurant Boccadibacco and helped run Caffe Pfoertner. Michele's approach to cooking is dynamic and he loves experimenting with simple flavors so the taste of the genuine ingredients he uses can really come through. He reinterprets classic recipes to give them his personal touch. You can find him coordinating the order from the butcher, finding the freshest seasonal produce at the local vegetable market, or in his chef's whites in front of the stovetop at MaMa sharing his knowledge with smiling participants.