Learn how to make Cantucci Biscotti online. Hands-on interactive lesson with Italian chef. Ask questions and prepare your biscotti live!
---
These amazing traditonal Tuscan biscuits are crunchy, tasty, healthy, and last for weeks in your pantry!
Traditionally, Cantucci di Prato (the Tuscan town to invent them) are enjoyed dipped in 'Vinsanto', a sweet dessert wine, at the end of a meal.
That being said, once you learn how to make this yummy dessert, you can take as much time as you like to decide how and when you prefer eating them! You can even make them with chocolate chips instead of almonds if you feel like indulging!
So so dolce...
---
About your Hands-on Cantucci Cooking Class
Let's share time together (insieme) in the kitchen!
Join a group and meet new friends or request a private class at your preferred date and time.
Enrol now and receive the ingredient list and a confirmation email with the link to a password-protected Zoom session.
Classes are approximately 1 1/2 hours, hands-on, fully interactive and fun!
So get ready, roll up your sleeves and ask as many questions as you like while you work together with your Italian Chef.
We look forward to sharing great moments! See you soon!
---
---
all.sign in to leave a review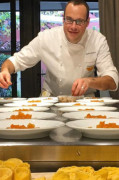 Michele Berlendis
Chef Michele Berlendis is the hands and heart of MaMa Florence, since he joined the team in 2016. A native-born Tuscan, he attended a technical school specializing in hospitality and during weekends, worked in a local restaurant where his passion for the kitchen was born. His most significant formative restaurant experience was working alongside chef Filippo Saporito, who he defines as his culinary guru, at La Leggenda dei Frati. After honing his skills, Michele moved to Berlin where he worked at the premier Italian restaurant Boccadibacco and helped run Caffe Pfoertner. Michele's approach to cooking is dynamic and he loves experimenting with simple flavors so the taste of the genuine ingredients he uses can really come through. He reinterprets classic recipes to give them his personal touch. You can find him coordinating the order from the butcher, finding the freshest seasonal produce at the local vegetable market, or in his chef's whites in front of the stovetop at MaMa sharing his knowledge with smiling participants.