Sign-up for a live interaction in the best online Italian cooking class. Join you chef and learn how to make Arista online. Ask hands-on.
---
Healthy, mouth-watering and traditional to its core, 'arista' di maiale is one of the simplest yet yummiest ways to cook pork!
With 'arista', Tuscans mean the back of the pig, but most people don't know this little fun story of why it is called that.
In 1439 a Greek Cardinal, who was visiting Florence and enjoying a roasted banquet, exclaimed: 'Aristos!', the Greek word for 'the best'. The florentines thought the Cardinal was referring to the name of the meat, and it has been that way ever since.
There are many ways of making a perfect Arista, and Florentine Chef Michele is here to teach you all the tricks!
---
About your hands-on, interactive cooking class.
Let's share time together (insieme) in the kitchen!
Join a group and meet new friends or request a private class at your preferred date and time.
Enrol now and receive the ingredient list and a confirmation email with the link to a password-protected Zoom session.
Classes are approximately 1 1/2 hours, hands-on, fully interactive and fun!
So get ready, roll up your sleeves and ask as many questions as you like while you work together with your Italian Chef.
We look forward to sharing great moments! See you soon!
---
all.sign in to leave a review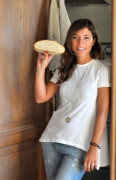 Enrica Della Martira
Curious, unquenchable and a true bon vivant - this is Enrica! Her passion for cooking was born over the course of countless epic Sunday lunches, where classic Italian home-cooking filled the tables, and moments of great joy and conviviality were the order of the day. Enrica's love of cooking and bringing people together over delectable meals was critical in her culinary development. This zest ultimately brought her to participate in the TV program, Master Chef TV, in 2014. After this unique experience, Enrica's worlds took on more defined culinary orbits. In 2015, her book "Bruschetta o Scarpetta" (Mondadori) was published and greatly well-received. Enrica then launched her blog, began leading cooking courses and events. In 2019, Enrica paired with the Food Network Channel to develop and host her show "Pane, Olio e Fantasia." Today, we're honored to have Enrica as part of the awesome Mama Blip team.