TODAY'S WOMEN IN WINE

"The world of wine is more and more female," "wine's pink quotas," "more and more women at the helm of wine companies," "the best female sommeliers." Followed by numerous awards presented not so much on the basis of professional career choice as much as the gender of the category: the best female chef, the best female maître, and so forth.

As we approach the middle of the year 2021, one does ponder if this approach works to favor women's emancipation, or if it risks penalizing the progress women have made professionally. Surely, there are still today sectors of the workplace where gender equality is still miles from being where it should be, where being a woman represents a distinct disadvantage or even a direct, personal safety concern.

Today's main discrimination in the workplace, when dealing with gender issues, is based on economic disparity, and the unprofessional approach many women are subjected to within the workplace.

JANCIS ROBINSON'S FUNDAMENTAL FEEDBACK
Are these elements present int the world of wine as well? I debated this question while reading an article by the esteemed Jancis Robinson, the doyenne of wine journalism. The article posited Robinson's reflections on the classic, predicable question: "how was it being female in your field?" Robinson's succinct reply: "cushy."

Robinson's answer must also be placed within a specific historical context, in mid 1970s-80s England, when Robinson was developing her professional infrastructure. During this timeframe, gender gap issues were the hot topic, debated in just about every arena.

Robinson reports that she was chosen to host a wine-focused Channel 4 TV program based on her gender, and recounts privileges she enjoyed at business lunches and dinners, providing her with the best seats in the house and ultimately, allowing her to report most extensively on the wine events she attended.

In these examples, it's quite clear that Robinson's gender guaranteed her indisputable advantages compared to her male counterparts. Robinson does acknowledge however, that after many years in the wine business, she has noted an overall decline in relations between genders.

Robinson stresses the point that her observations are not intended as a complaint, as she's quite aware of the prestige her name and experience carries within the wine world. Robinson emphasizes that hers is a privileged perspective, garnered following her many years of work within the international context of the wine world, where she's been a first hand witness to many episodes of sexual discrimination.

NOTIONS OF TIPPING POINTS AND HOW TO AVOID SPILLAGE
We don't have to look very far for support of these theories. Amber Gardner, reports in a fundamental read for women in wine, in her article for The Buyer magazine, a complete list she collected throughout her years of work, of explicit jokes and references by male colleagues. Sufficed to say, the list is long.

Robinson reflects upon what she identifies as "tipping points," or the limit to which contemporary women working in the wine world will reach before feeling the need to publicly push for change and acceptance in a world simply dominated by the other gender. Robinson believes there's a pressing need to open better dialogue within restaurant staff members, for instance. By providing staff with direct training and feedback on the reality of current work environments for woman, improvement and change could likely happen with greater ease, ultimately ensuring a more positive experience for all workers.

Naturally, the intent is not to humiliate and offend today's workers, but to offer a chance to reflect on long-held attitudes and belief sets. Decanter, the revered English wine magazine, has created a space on its website dedicated to "Inclusion and Diversity." Here we can find and review articles that aim to focus the attention of major institutions like wine producers, restaurant and hospitality providers onto these pressing issues within today's wine world.


BOMBSHELL REPORTS TRIGGER POSITIVE CHANGE
Pushing ahead on the issue of tipping points, let's not forget what happened less than a year ago, at the Court of Master Sommeliers - America. Triggering a true bombshell, a large collective of women working in the wine world denounced a serious problem of sexual harassment within the very elite hemisphere of the US wine world. The report appeared in the nationally-followed New York Times, ensuring national attention to the issue at hand.

The report collected the testimonies of 21 sommelier candidates who indicated their direct experience with sexual harassment or manipulation, or at worst, sexual assault. Moreover, reports indicate that the top management of the Court association had been aware and informed of this issue for some time prior to the published report and complaint.

The reply from the CMS-A was not long in coming, and was judged to be satisfactory in addressing the areas where problems arose. CMS-A took legal action against the accused members of the organization, and additionally approved a code of ethics that all members must adhere to. They've also mandated participation in training courses relative to their ultimate roles and activities within the organization.

WINE EDUCATION AND THE FEMALE PRESENCE
The theme of training and education is central, especially when the numbers of female enrolment in assorted training organizations are reviewed. The graph below offers an interesting cross-section of this trend. Female registration and presence in formal educational institutions focusing on wine training is equivalent if not superior to the numbers of their male counterparts, and in the case of some professional and non-university based courses, even greater than the male quotient.

The gender gap is narrowing within the ambit of wine education, as the statistics above show. In fact, the numbers are a perfect reflection of the overall trend in post-compulsory education, where women are often in the majority of registered students.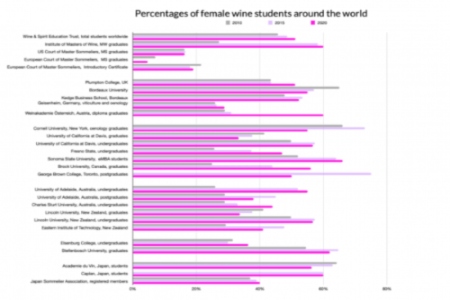 FORUMS FOCUSED ON WINE AND FEMALE LEADERSHIP
However, the real issue is within the workplace itself. And here, we find Robinson's statement for the need to promote female figures in the wine world so imperative and fundamental. We can find a perfect example of a company leading the way on this front, with Winebow Imports. In 2012, the respected wine import company sponsored the Women in Wine Leadership Symposium, a forum focused exclusively on the experiences, opportunities, and challenges that women face in today's wine world.

The desire to advocate for change is finding ever-increasing numbers of acolytes.

One of most recent establishments appearing on the scene is Bâtonnage, a forum aimed at stimulating conversations about and among women in wine. The organization aims to create a genuine multi-level mentoring program. Bâtonnage's mentors, almost entirely female (save one man), all hail directly from the world of wine, sales, marketing, hospitality and communication.

The Sonoma, California-born association has carried out fundraising by selling gadgets, sweatshirts, and assorted merchandise, whose profits serve to underwrite its tutoring activities. The cooperative has a forum coming up, scheduled for June 22-24th, 2021.

Bâtonnage's homepage includes some very interesting data focusing on the salary gaps encountered by men and women in the international wine world. For a numerical approach, it's estimated that the salary gap between a male and female sommelier is equivalent to about $7,000. It's worth reflecting upon as well that only 30% of wineries in the U.S. are captained by women, and that female winemakers in California account for only 14% of the total numbers.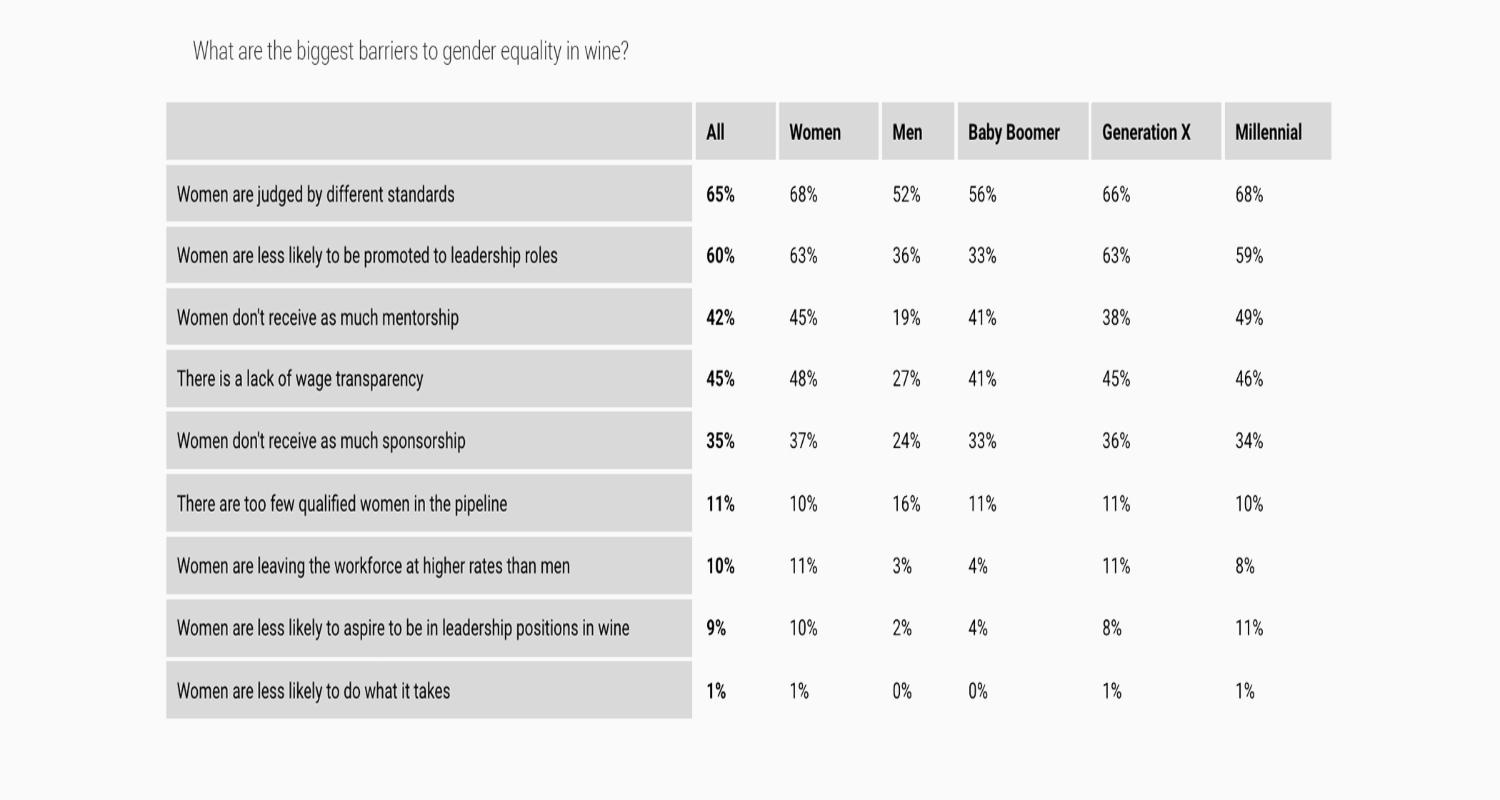 The Lift Collective, formerly Wonder Women of Wine, held a forum in March, also focusing on scholarship, opportunities, and mentoring. This multi-channel platform aims to transform and create innovation within the constructs and confines of the wine world. How? Through a series of discussions and panels on advancement of women in the wine world led by an all-women team, in turn guided by Rania Zayyat, sommelier, wine educator, and a strong advocate for gender equality in the wine industry.

The Lift Collective, in collaboration with data analysis agency The Wine Nerd, finalised a very intriguing research project investigating gender inequality in the wine industry. Based on anonymous feedback from 554 respondents, a general understanding of the industry begins to take shape.

The data confirms a certain conformist, machismo-based perception of the wine industry, particularly when dealing with top leadership roles: ownership, management, and technical responsibilities.


WHAT NEEDS TO CHANGE TO MAKE THE PLAYING FIELD EQUAL?
While there's a greater sense of optimism regarding improved salary equity, the optimism fades notably when speaking of professional growth. In one critical arena, for instance, men expressed greater comfort levels where negotiation was required, whereas women expressed much less comfort during negotiation processes.



Looking for more info on women in the gourmet world? Francesca Ciancio, in Inspiring Women: Extra-Virgin Olive Oil Boosts Women, also explores the female role in the world of EVOO. Looking for a minority report instead? Look no further than Bringing U.S. Black Power to the Wine World, also by Francesca Ciancio for a look into the strength African-American and Black wine experts are bringing to the wine world. And to bring home some of your own favorite wines, don't miss the Mamablip Wine Selections page and bring some wine to your doorstep today!

Don't forget to register for Mamablip's weekly newsletter for updates on all the exciting newest Mamablip Blog articles, recipes and other wine news from Italy.