Liguria wine region guide- Wines of Liguria, Italy
Guide to discover Liguria Wines: Liguria is a long, thin region in north-western Italy, famed for its rugged, picturesque coastline (particularly that around the Cinque Terre). Arcing around the Ligurian Sea, the region links Tuscany with Provence, and has long been an important trade
Guide to discover Wines of Liguria region
What wine is Liguria known for?
The unique topography has always had a very important influence on viticulture and wine production in Liguria. The vineyards, exposed to the sea breezes and often cultivated on steep slopes, produce wines with a particular "salinity", hardly present in wines produced elsewhere. Because of those terraced vineyards on steep slopes, the viticulture in this area is often called "heroic".
Liguria is well-known for its distinctively flavored white wines made from Pigato (aka Vermentino) grapes, as well as peerfumed and fresh red wines, made from Rossese.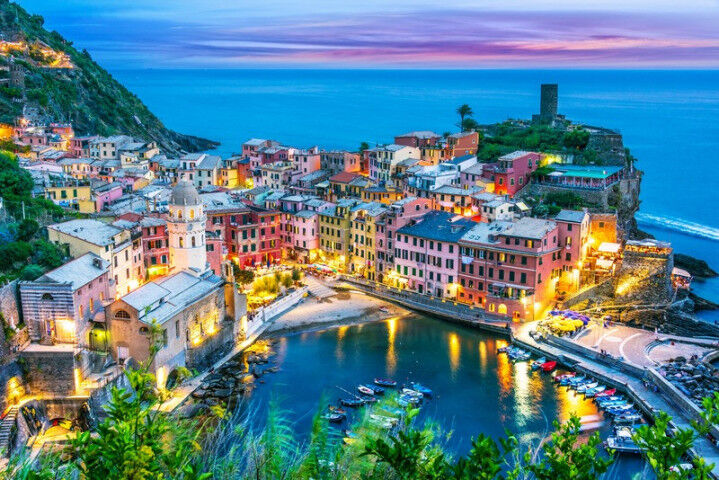 Where is Liguria?
This region stretches from the French border to the edge of Tuscany and has a beautiful Mediterranean climate, which means hot and sunny summers, mild winters, and moderate rainfalls.
Despite its small size, Liguria is only the third smallest region in Italy. Liguria has always been a crossroads of trade and traffic between Italy, France, and Spain and has an ancient winemaking tradition.
An arc stretched between Tuscany, Piedmont and France, squeezed between the sea with its maritime pines, aloe trees, agaves and palms, and the mountains, populated by chestnut and beech trees, pines, firs and larches: Welcome to Liguria, a jewel-region set between the sea and the mountains, which here exceed 60% of the total surface and which, for the remaining part, is covered by hills.
Ponente and Levante are the two multicolored faces of a region that maintains its own precise identity with its strong, tormented yet extremely seductive nature.
Ligurian Riviera di Levante: landscapes suspended over the sea, almost fairy-tale-like, loved by writers who have told their stories and made them known all over the world. It is the Riviera of Portofino, Cinque Terre, the Gulf of Poets, in short, the one that leads from Genoa to the east to the famous Versilia.
Western Ligurian Riviera: the sea, the stones, the silence. A complex landscape, too, stretching from the western suburbs of Genoa to the French border, where a narrow coastline with a very mild climate is home to orange and lemon trees and many varieties of agricultural crops.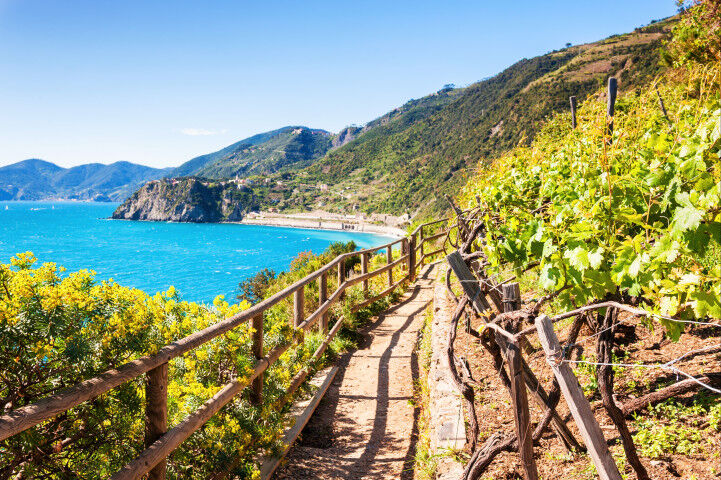 What is the history of Ligurian wines?
A landscape extremism interpreted by wine growers who are the creators and custodians of a "valiant" viticulture perpetrated since Roman times. All of this is exacerbated by a very limited surface area of vines: little more than 5 thousand hectares planted, mostly on very steep slopes. Since the vines, cultivated exclusively by hand, are planted by means of daring terraces and with forms of farming such as the alberello (very resistant to wind), flanked by the espalier.
Three are the main production areas: La Spezia, the Cinque Terre and the Riviera di Ponente. The most common red berried grapes are Rossese and Ormeasco. The first one in Ponente gives wines with intense and persistent aromas, ranging from red rose to berries, whereas the one from Dolceacqua has marked scents of rose, violet, currant and an aftertaste of almond. Ormeasco is the Ligurian version of Piedmont's green-stemmed Dolcetto, planted starting in the 14th century in the area of Ormea, by decree of the Marquis of Clavesana.
The two most famous white berried varieties of the region, Pigato and Vermentino, are actually probably the same grape, because after years of comparisons and researches, scholars did not reach a certain conclusion. The result is two wines having two different appellations, whereas they could be the same species. Anyway, they are delicious full bodied white wines, sapid, with a typical and pleasing bitterish bottom; they tend to be intense thanks to the aromas of ripe peach and apricot, to the notes of honey and light tones of flowers and musk.
Famous, finally, in the area of the Cinque Terre, is the Sciacchetrà, a great passito wine from extreme viticulture, more and more rare and sought after, made of Bosco, Albarola and Vermentino grapes.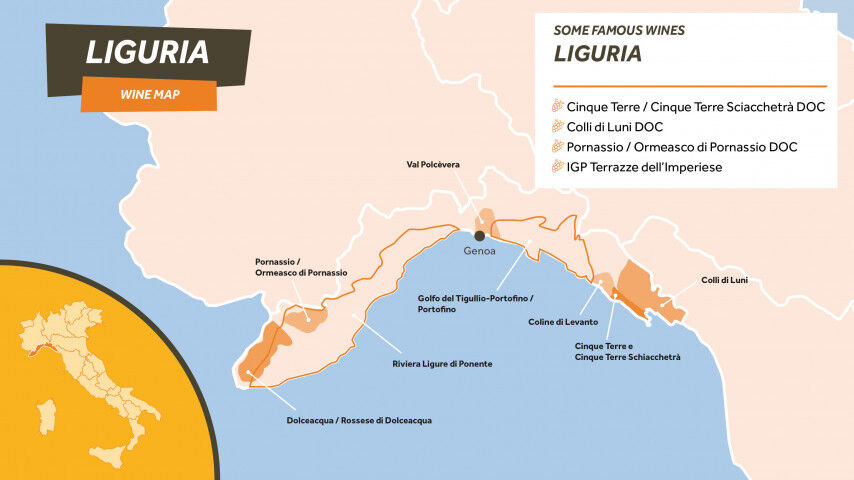 Wine-producing of Liguria
The wine producing areas in Liguria are concentrated around four cities: Imperia, Savona, Genoa, and La Spezia.
Riviera Ligure
The first wine-producing area corresponds to the Riviera Ligure di Ponente DOC and stretches from Genova all the way to the French border, including Imperia. You will find wines made from Pigato, Rossese, but also Granaccia here.
Imperia
The area around Imperia, though also includes such DOCs as Rossese di Dolceacqua DOC and Ormeasco di Pornassio DOC. You will find Ormeasco, Rossese, Pigato, and Vermentino wines here.
Genova
The area around Genova, Val Polcevera DOC, produces red and white wines from Albarola, Bianchetta Genovese, Vermentino, Rossese and other grape varieties. The area further east we find Golfo Tigullio or Portofino DOC and Colline di Levanto DOC, with more or less the same grape varieties, as in Val Polcevera. Notably, the use of old and almost estinct local variety Scimiscià is included in the Portofino DOC.
La Spezia
The area around Spezia includes Colli di Luni DOC and Cinqueterre DOC. The first is well known for its Vermentino wines, but produces red wines, while the latter, Cinqueterre DOC is concentrated on production of white wines from Vermentino + Albarola and Bosco grapes, as well as the rare sweet wine called Sciacchettrà.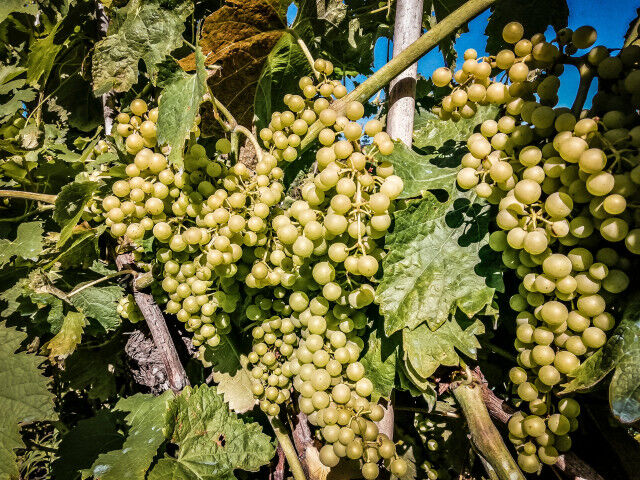 Ligurian Wines Appellations
Cinque Terre / Cinque Terre Sciacchetrà DOC
Colli di Luni DOC
Colline di Levanto DOC
Golfo del Tigullio–Portofino / Portofino DOC
Pornassio / Ormeasco di Pornassio DOC
Riviera Ligure di Ponente DOC
Rossese di Dolceacqua / Dolceacqua DOC
Val Polcèvera DOC
IGP Colline del Genovesato
IGP Colline Savonesi
IGP Liguria di Levante
IGP Terrazze dell'Imperiese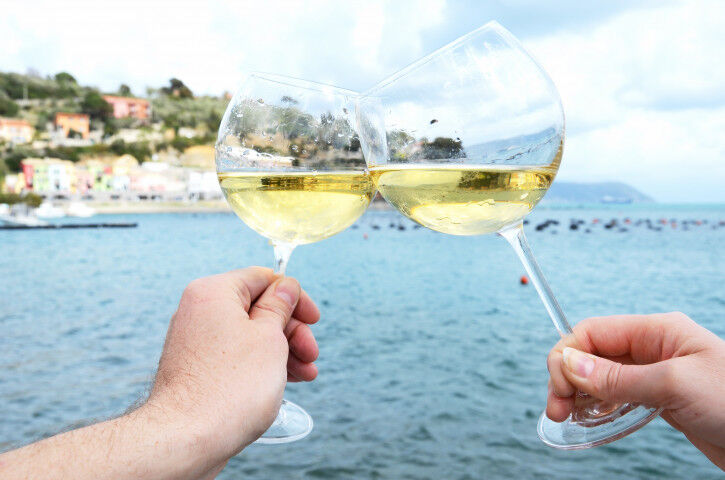 How many grape varieties are in Liguria?
Pigato
You might think you are unfamiliar with Ligurian grape varieties, Pigato, for example (the flagship white grape variety here in Liguria); However, you might know it under a different name! Let's try: Rollé from Southern France, Vermentino from Sardinia, or Favorita from Piedmont.
Yep, confusingly these are all different names of the same grape variety. Or at least this is what recent DNA researches show. However, go to Liguria and talk to a local winemaker. He will tell you that Pigato and Vermentino express themselves very differently and, in fact, are labeled separately here in Liguria.
Pigato makes whites with intense aromas of citrus, fresh herbs, and spice and a rich, waxy texture. It evolves with time, so you can leave it in your cellar for a few years.
Cinque Terre
One of the more exciting Ligurian whites is a blend of Vermentino, Albarola, and Bosco (rare local grape varieties) called Cinque Terre. This appellation is also famous for its vineyards situated high above the Ligurian Sea, on terraces sculpted into cliff sides.
Ormeasco
We are on the border with Piedmont, so it is no surprise that we find at least one Piedmontese grape variety here. Ormeasco is what they call Dolcetto here.
Other varieties
Scimiscià is an old very rare local grape variety, that was almost extinct. Scimiscià can produce white dry wines, as well as excellent passito versions. Dry wines made from Scimiscià are pleasantly fruity with citrus and floral notes, and a slightly salty accent on the palate.
Albarola is another local white grape variety. From the enological point of view, it is quite neutral, however it makes a good blending partner for other grapes. Its varietal wines are pale in color, with simple fruit aromas and some herbaceous notes. In blends, though, it is able to bring some structure and alcohol, that might be lacking to other grape varieties.
Where to taste Ligurian wines
Lvnae Bosoni
Each glass of Lvnae Bosoni wine is sheer pleasure, as you'd experience with works of art and music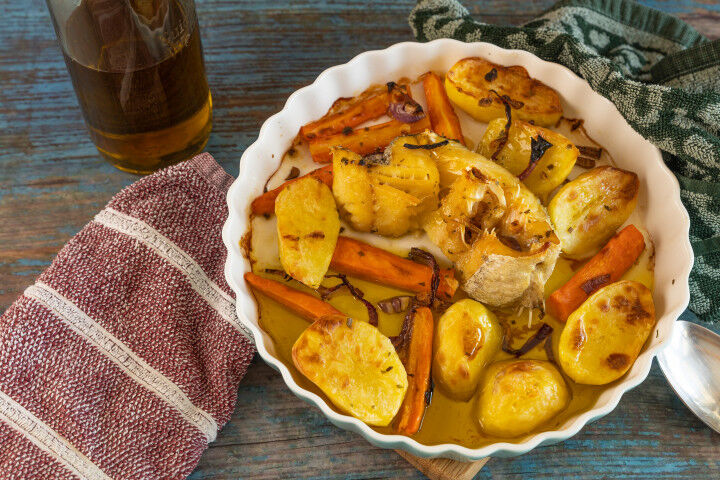 What to eat in Liguria
The traditional preparations in Liguria are skilful elaborations of raw materials consisting of vegetables, some cereals and legumes, white meat, fresh or preserved fish products (such as anchovies, salt cod and stockfish), aromatic and wild herbs (borage in particular), light sauces and gravies, substantially free of animal fats.
The land is virtually devoid of meat, with the exception of some sheep (like their superb goat with beans) and farmyard animals (the incredible rabbit with olives and pine-nuts).
3 Traditional Ligurian Recipes
Cappon Magro: vegetables and fish in abundance (as well as crustaceans and seafood), placed on a base of 'galletta' (ancient bread)
Brandacujun: stockfish and potatoes, flavored with garlic, parsley and pine nuts, emulsified with evo oil, lemon juice and egg yolk
Minestrone alla genovese: short dry pasta, cooked in vegetable broth with seasonal vegetables and seasoned with pesto alla genoveseà
Best Ligurian Wines And Food Pairings
Wines from Liguria are perfect with local food. The interesting thing about food and wine pairing here, is that you can easily pair even local reds with fish!
Focaccia di Recco stuffed with delicious melted stracchino cheese pairs very well with local white blends or varietal Pigato wines.
Pigato, thanks to its distinct herbal aromas, is also perfect with pesto sauce: amazingly delicious green sauce made with basil leaves, pine nuts, olive oil, garlic, and hard cheese.
Another irresistible pairing is Cinqueterre white wine paired with Ligurian style fish, baked with potatoes, cherry tomatoes and taggiasca olives.
And, of course, a must-try is Rossese di Dolceacqua with Coniglio alla Ligure (a ligurian style rabbit). You can also pair Rossese with some structured fish dishes.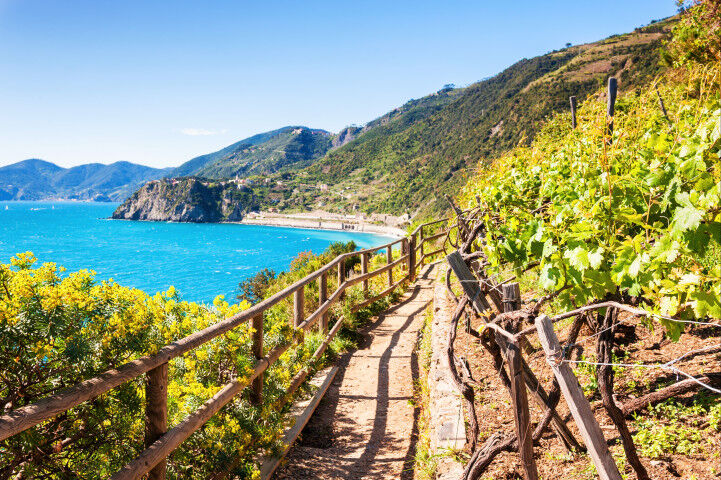 Liguria today - wine
Liguria does not have any DOCGs, however the quality of wines produced in the region is very high. These wines are very food-friendly and go amazingly well with local cuisine. Considering the difficult grape growing environment we can't help but mention how this "heroic" viticulture makes wonders by making such distinctive and characterful wines.
Liguria FAQs - wine
How many hectares does liguria have?
There are only around 6,000 hectares (14,800 acres) of vineyard in the wider Ligurian are
How to pronounce Liguria?
luh·goo·ree· uh

---
---
all.sign in to leave a review