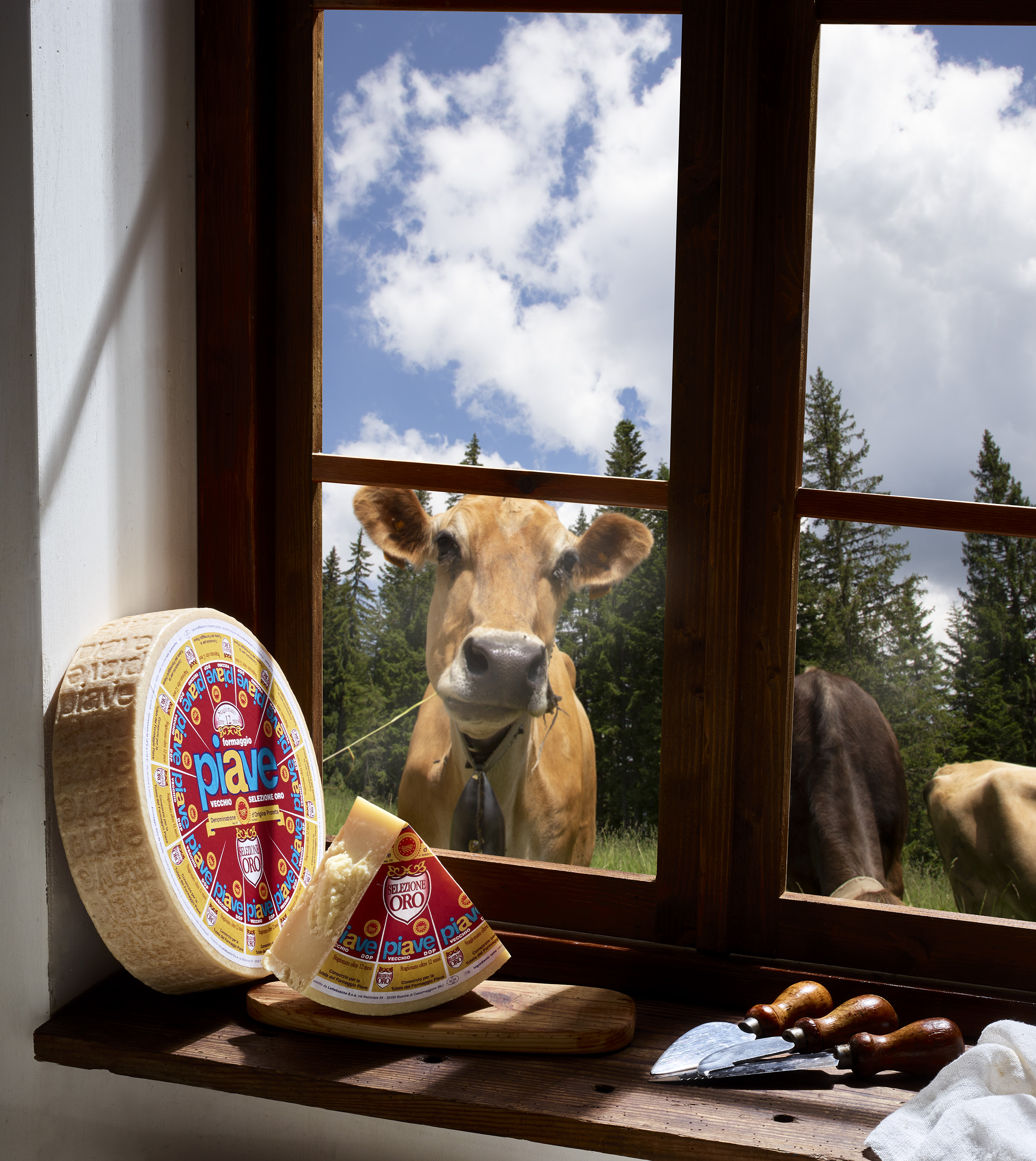 Origins:
Piave cheese hails from the province of Belluno, the northernmost tip of the Veneto region where you'll find the breathtaking Dolomite mountains and valleys, as well as the legendary Piave river.
Production area:
The distinct and delectable result of generations of cheese-making expertise, in an Alpine climate featuring cool summers and snowy winters, Piave cheese dates back to 1960 when it was first produced in small batches. A best kept secret among cheese lovers, which wasn't kept so secret, as today Piave cheese produces over 350 thousand wheels a year.
Enjoyment:
From the pleasant and slightly salty Piave Mezzano to the intense full-bodied flavor of Piave Vecchio Selezione Oro with hints of fruit, Piave cheese gets its distinct northern Italian character from 4 different cattle breeds in Belluno province. At least 80% of the pasteurized milk comes from these breeds: Bruna Italiana (Italian Brown), Grigia Alpina (Alpine Grey), Pezzata Rossa Italiana (Italian Red Pied) and Frisona Italiana (Italian Friesian or Holstein).
Piave cheese pairs well with Garda D.O.C. Sparkling rose wine. A hard, cooked curd cheese it's an outstanding cheese from table to grating, and available in five ages:
Piave Fresco DOP (20/60 days),
Piave Mezzano DOP (61/180 days),
Piave Vecchio DOP (>180 days),
Piave Vecchio Selezione Oro DOP (>12 months),
Piave Vecchio Riserva DOP (more than 18 months).
Learn more about The Consortiium of Piave DOP HERE.

The content of this promotion campaign represents the views of the author only and is his/her sole responsibility. The European Commission and the European Research Executive Agency (REA) do not accept any responsibility for any use that may be made of the information it contains.