Discover the Best Piedmont Wines: Map Region with guide - Piedmont Travel Guide . Fall in love for the unique taste of red and white wine from Piemonte. Barolo, Barbaresco, Berbera, Moscato

Piedmont Wine Guide: Land of Italian Red Wines, Truffles, and Much More
Where can you eat the world's most aromatic truffles paired with the world's finest wines? There is only one place, and that place is Piemonte.
What is Piedmont, Italy known for?
Piedmont is home to a serious wine-making tradition, with references to the Nebbiolo grape dating back to the 13th century. Piemonte is the land of red wines, and is the birthplace of the extraordinary Barolo and Barbaresco wines. Interestingly, these top wines account for only about 3% of Piemonte's wine production, which means there's so much more to discover about this region!

Is Piemonte in northern Italy?
Piemonte literally translates to "at the foot of the mountains" and is located in north-west Italy, at the base of the Alps. Piemonte is home to Torino, the first Italian capital after the unification of the country in the late 1800s. Torino is an elegant city set amongst a magnificent backdrop - it's almost as if the city springs up naturally from the foothills of the ever-present Monviso, the highest mountain on the Alpine border separating Italy and France.
In Piemonte, art, breathtaking landscapes, enchanting villages, stunning monasteries, and gastronomic delights fill your senses. Just picture aromatic white truffles freshly shaved on heaps of tagliolini pasta. And of course, we can't forget the prestigious wines known all over the world!.
Main wine-growing areas of Piedmont
Langhe
The Langhe is perhaps Piemonte's most famous production region. From the Latin word for "tongue," this hilly area is densely packed with vineyards flowing along its many sharp curves and slopes. The UNESCO World Heritage site Langhe region is located south of Alba, in the province of Cuneo, and is chock-full of stunning landscapes and historic wine-making traditions.
What wines are from Piedmont?
One of the reasons behind Piemonte's incredible wine production is its unique geological composition. The Alps mountains create not only a border of this region, but they also create a natural, protective barrier that ultimately gives way to vast foothills. These naturally-occurring elements are precisely what create the region's ideal environment for grape-growing.
Many years ago, the region we know today as Piemonte was entirely flooded with ocean water. As the waters eventually receded, the waters left behind a rich sediment that ultimately created Piemonte's exceptionally fertile soils. Distinctive soil composition, steep slopes and elevations, and varied microclimates are the defining characteristics of great wine-making regions. In fact, Piemonte is one of the regions with the highest number of DOCG wines. These are wines within the Italian wine classification system that are considered of exceptional quality and held to the most rigorous production standards.
The Wines of Piedmont, Italy (DOCs and DOCGs)
Piedmont is a land of quality. More than 80% of the wine produced here is with denomination of origin (DOC). 18 wines are DOCG (Denominazione di origine controllata e garantita) and 41 DOC (out of 73 DOCG and 332 national DOC wine selections). The grapes at the base of these acclaimed wines come from about twenty historical autochthonous vines, among which Arneis, Cortese, Erbaluce, Favorita, Moscato Bianco, Barbera, Bonarda, Brachetto.
D.O.C.G.
Alta Langa
Asti
Barbaresco
Barbera d'Asti
Barbera del Monferrato Superiore
Barolo
Brachetto d'Acqui o Acqui
Dolcetto di Diano d'Alba o Diano d'Alba
Dolcetto di Ovada Superiore o Ovada
Dogliani
Erbaluce di Caluso o Caluso
Gattinara
Gavi o Cortese di Gavi
Ghemme
Nizza
Roero
Ruchè di Castagnole Monferrato
Terre Alfieri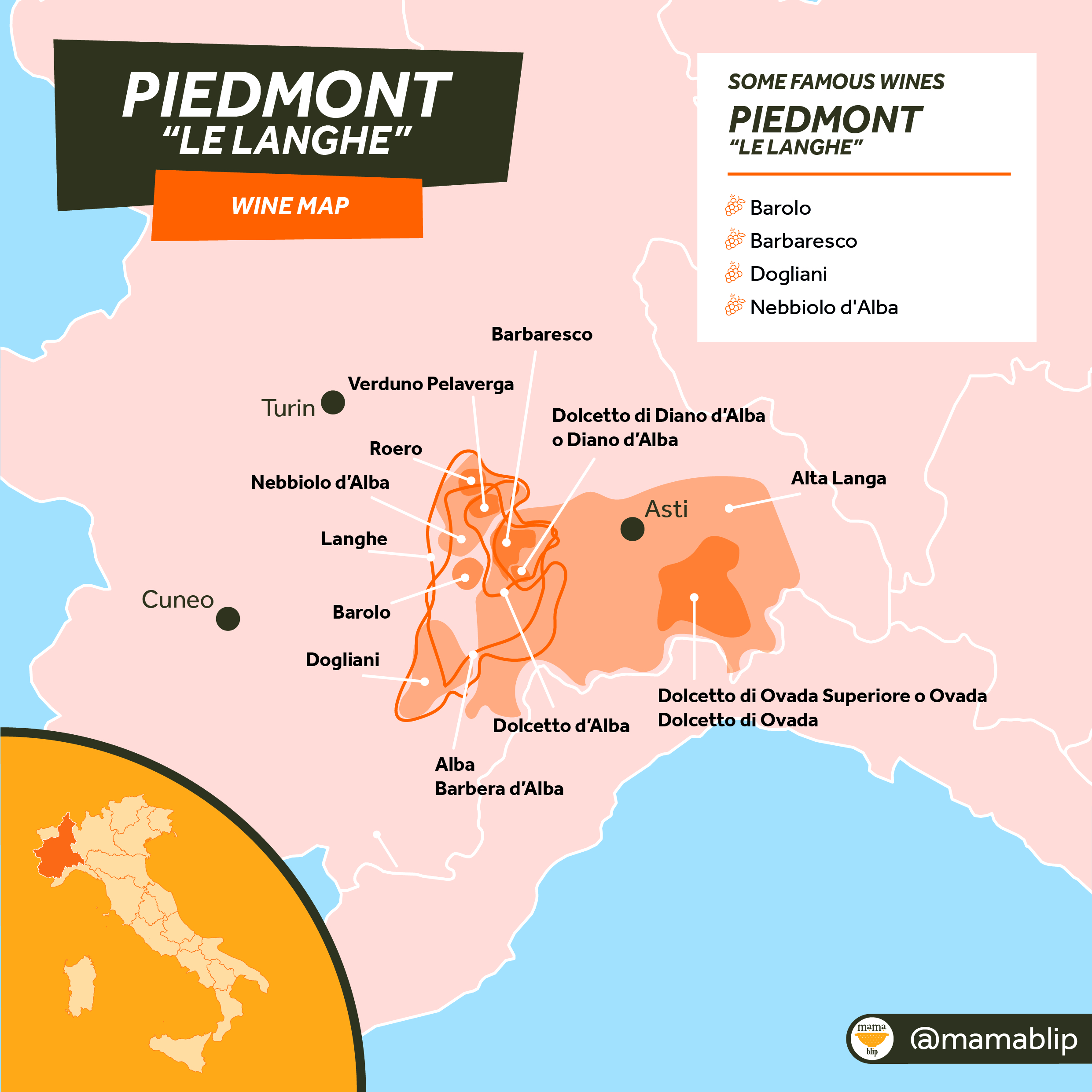 What grapes are grown in Piedmont?
Nebbiolo
Nebbiolo is the dominant grape variety of Piemonte, and is used exclusively to produce Barolo and Barbaresco wines, even though the grape can be found in different areas of Piedmont. Relative to its growing area, the Nebbiolo grape has a multitude of unique expressions. Recalling the late autumn misty mornings where the thick fog rolls in around the vineyards, the term Nebbiolo indeed comes from the Italian word for "nebbia," meaning fog. The Nebbiolo grape is a finicky variety, and needs extensive care, attention, and particular soils and climates in order to truly flourish.
Barolo and Barbaresco
Barolo and Barbaresco are produced here, where vineyard locations and the local microclimate help make the wines unique to this region only, with replication anywhere else impossible. Both wines, with their complex aromatic bouquets, gripping tannins, acidity, and excellent ageing potential are inherently tied to the territory. These wines are best appreciated and understood with some time.
Alto Piemonte
Nebbiolo is planted throughout Piemonte. One of its most unique expressions can be found in northern Piemonte, nestled into the base of the Alps, edging onto the Lombardy region. Here in the Alto Piemonte, Nebbiolo appears as a lighter-bodied, earthier wine, in a radical departure from the Nebbiolo of Barolo and Barbaresco wines.
Alto Piemonte wines are highly distinctive, however, with a real aging potential. This potential is thanks to both the Nebbiolo's tannins, and the wines' wonderful acidity born from the vineyards' steep elevations and the fluctuation in area temperatures between day and night.
Other Piemonte Wines
While Nebbiolo is the defining red grape variety of Piemonte, it is not the only one. The region is also renowned for its red wines made from grapes like Barbera and Dolcetto, and white wines produced from the Cortese, Arneis, and Moscato grapes.
Barbera
Barbera is Piemonte's most widely planted grape, and historically has been known as Piemonte's work-horse varietal. Some of the finest Barbera grapes come from the area around Alba and the nearby Langhe hills, overlapping with the Barolo and Barbaresco territories. Other areas with renowned Barbera production are the areas of Asti and Alessandria.
Barbera is a flexible varietal, and can be produced in many styles. Barbera's most appreciated and well-known variant is in the production of a juicy, lively wine with red fruit, deep color, and relatively low tannins and alcohol, retaining a bright acidity.
Dolcetto
Dolcetto translates to "little sweet one," and when compared to the marked acidity of Nebbiolo and Barbera, it does indeed seem "sweet." Primarily found in the Cuneo and Alessandria provinces, this wine is made to be enjoyed while young.
Appealing fruitiness, moderate-to-low acidity, and a deep color make it a great alternative to longer-aging wines like Nebbiolo and Barbera.

Piemonte White Wines
We cannot forget the white and sparkling wines of Piemonte!
The Cortese grape, used to produce Gavi wine from the eponymously-named town, is Piemonte's most famous white grape, and produces a delightful bone-dry, crisp, white wine.
Arneis is cultivated in the Roero area, and is a medium-bodied wine with lovely floral, herbaceous aromas.
Moscato is best known as the sweet, fruity, gently-sparkling or semi-sparkling white wine produced near the area of Asti.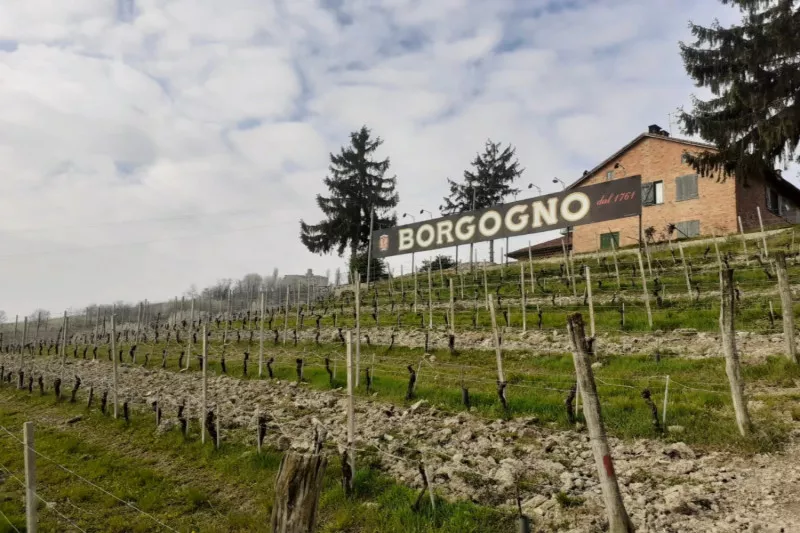 Where to taste Piedmont wines?
Fresh leadership at historic Borgogno winery in Piedmont brings inventive results. New wines, new labels, new styles ensure continued spaces for renowned Langhe winery.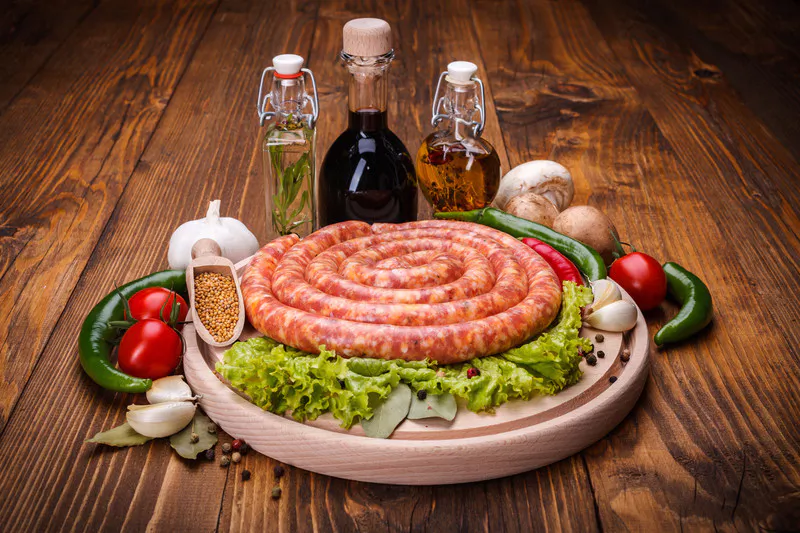 What to eat in Piedmont?
Salsiccia di Bra is a traditional sausage hailing from Bra in Cuneo, Italy. Although the exact recipe is a secret, certified producers say that the secret of this cylindrical sausage lies in the right amount of lean veal meat, pig's fat, sea salt, white pepper, cinnamon, mace, and nutmeg

What to see in Piedmont?
Langhe, the hills and the vineyards where the bold wines of Piedmont are born
Roero
The Roero has developed into a most fascinating area, and has officially abandoned its former reputation as the Langa's younger brother
Piedmont FAQs - wine
how to pronounce piedmont?
piːdmənt