Tuscan wine region guide: Wines from Tuscany, Italy
Guide to the Tuscany wine region and discover its wines, vineyards, cultural heritage and gastronomy. Follow this guide for an exclusive insight on how to go about planning your wine journey through Tuscany. Find out where to find the Tuscan classics, where to stay in Tuscany to optimise your wine tour and which vineyards are worth a visit.
Tuscan wine guide, Italy
What is Tuscany famous for?
Tuscany is the region in central Italy. It is arguably the most historic and prestigious Italian wine regions. The world's first exclusive protected vineyard area was introduced in Chianti, here in Tuscany, in 1716. And this region was and remains the land of incredibly important wines. It is the land of Sangiovese, a local red grape variety, used in production of Chianti and Brunello di Montalcino, as well as in other Tuscan appellations. It is also the land of luminous gentle slopes, tall cypresses, charming castles, and warm blue sea.
Where exactly is Tuscany?
Tuscany is a region of Italy, located in the central-western part of the country.
It is quite diverse, with many different landscapes: you can find forests on one side of the valley, next to vineyards on steep slopes; on other hills there are olive groves that still green up at this time of year; you can also drive through long stretches of countryside that go up to remote areas like Abbadia San Salvatore or Chianti where you can find medieval villages like Castellina in Chianti.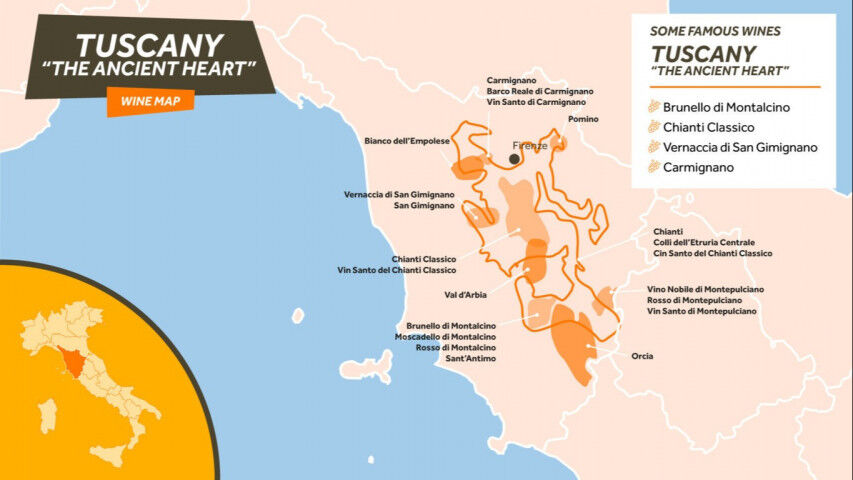 The main wine-growing areas of Tuscany include:
Chianti Classico
One of the most important red wine appellations here is Chianti Classico DOCG. The best soils of this area are called Galestro, which is a rocky, schistous clay soil. Under some weather conditions it crumbles, releasing the precious minerals vital for the plant. Now Chianti Classico is made from red grapes only, requiring at least 80% of Sangiovese in the blend. However, historically white grapes were also permitted to soften the wine and make it more approachable.
Not all winelovers know, that apart from Chianti Classico, there is a larger area, that surrounds it, which is called Chianti DOCG. It is further divided in 7 sub-regions: Chianti Colli Fiorentini, Chianti Colli Senesi and Chianti Rufina, Chianti Montespertoli, Chianti Colline Pisane, Chianti Colli Aretini, Chianti Montalbano.
Brunello di Montalcino
Another extremely important wine regions Brunello di Montalcino DOCG. What distinguishes this appellation is the fact that these wines are made exclusively from Sangiovese grapes. Brunello di Montalcino is the creation of the great visioner Ferruccio Biondi Santi, and from the very beginning was thought to become a unique wine of highest quality destined for the elite consumers. This is exactly what happened. Unique terroir, low yields, great attention to the quality of the grapes, long aging made Brunello di Montalcino a synonym of exclusive wine.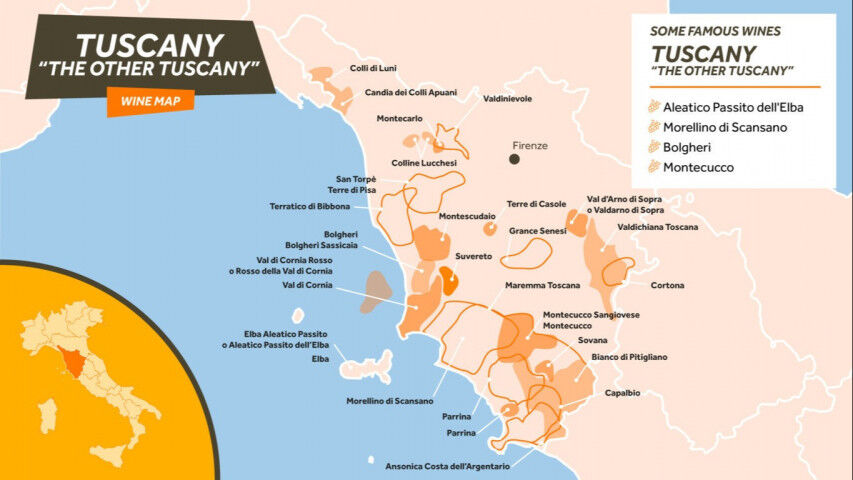 Why is Tuscany known for wine?
The origins of viticulture in Tuscany date back to the time of the Etruscans. Chianti wine was first mentioned in 1300, when the "Lega del Chianti" was founded, under the jurisdiction of Florence, and the famous "Black Rooster" was created as the symbol of Chianti Classico.
In the end of XIX century Brunello di Montalcino was born, quickly becoming an incredibly important wine of the region.
Towards the 1960s some producers such as the Mario Incisa della Rocchetta decided to create full-bodied wines from international grapes, aged in barrique. Given the structure and cost of these wines, they were nicknamed "Supertuscans".
In 1963 Vernaccia di San Gimignano was the first wine to obtain the DOC, while the Vino nobile di Montepulciano and Brunello di Montalcino the first to receive the DOCG in 1980.
How many appellations are there in Tuscany?
The region's top wines are officially recognised and protected by a raft of 41 DOC and 11 DOCG titles
Brunello di Montalcino DOCG
Carmignano DOCG
Chianti Classico DOCG
Chianti DOCG
Aleatico Passito or Aleatico Passito of Elba DOCG
Montecucco Sangiovese DOCG
Morellino di Scansano DOCG
Rosso della Val di Cornia DOCG
Suvereto DOCG
Vernaccia di San Gimignano DOCG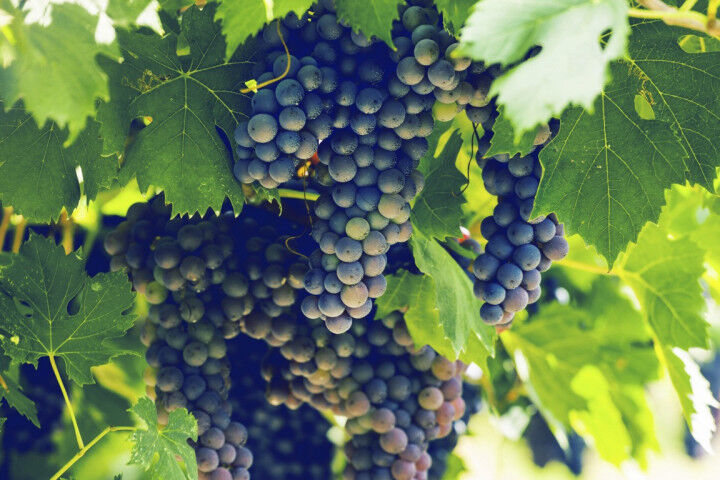 What grapes are in Tuscany?
In Tuscany there are more than 100 different types of grapes, however only some of them are suited for the production of wine Tuscan wines are produced with Sangiovese, Trebbiano, Malvasia Bianca, Greco and Vernaccia di San Gimignano grapes.The most famous grape is Trebbiano. Trebbiano is often used as a blending grape in order to add body and complexity to wines. This variety thrives in the warmer climate of southern Italy, especially in Tuscany.
Sangiovese
Sangiovese is a symbol of Tuscan viticulture. Sangiovese is not an easy grape to grow. It is prone to spring frosts and as it ripens late, can be affected by autumn rain. It likes warm sunny slopes and stony soil. However, if grown successfully and vinified with certain attention, wines made from Sangiovese can be incredibly interesting. They tend to be a ruby in color and high in acidity and tannins, with aromas and flavors of cherries, plums, as well as with some earthy and herbaceous notes.
Canaiolo
Local Canaiolo red grape is also and important indeginous grape variety. Soft and full-bodied it compliments Sangiovese in blends, even though varietal wines also exist.
Trebbiano
Talking about grape varieties we can't help but mention a white grape called Trebbiano Toscano, as it the second most planted grape variety in Tuscany after Sangiovese. This grape variety is also called Ugni Blanc and it is probably producing more wine in the world than any other grape. The reason for popularity of this grape is very simple. It produces quite neutral wines, that are very good for blending. What is so special about this grape in Tuscany? It was included in production of Chianti Classico, and is still a part of Chianti DOCG, even though not obligatory anymore.
Other varieties
Tuscany is famous for using international grape varieties, that are sometimes blended with Sangiovese: Cabernet Sauvignon, Merlot, Cabernet Franc, and even Syrah. White grape varieties include Vernaccia, Vermentino, Chardonnay.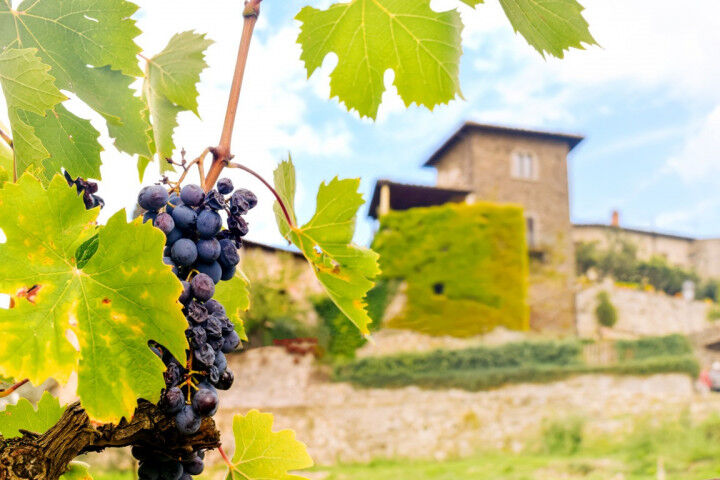 Some best wineries in Tuscany
Castello d'Albola
Antinori
Gancia
La Scolca
What to eat in Tuscany?
Tuscan Ribollita soup recipe will make you feel ever-so-virtuous as you use up your kitchen scraps to make a great Italian classic
This brilliant second course is a terrific way to begin with a lesser-valued cut of beef and turn it into a magical dish that will have your diners in pure rapture.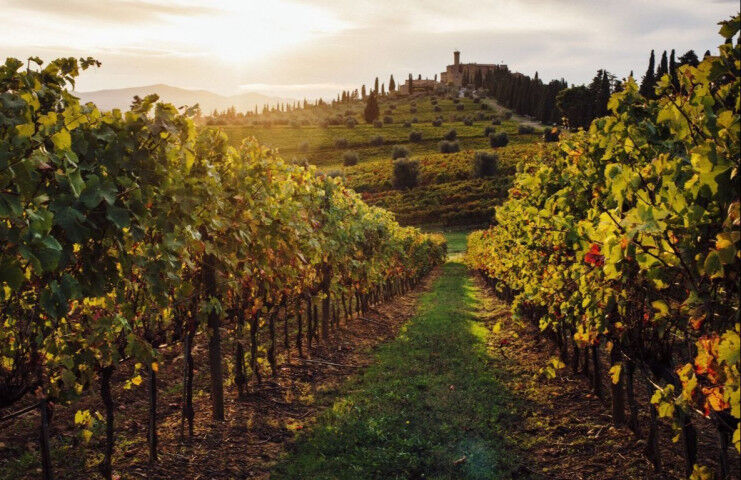 Tuscan FAQs - wine
What kind of wine is Toscana?
Tuscany is famous for its red wines.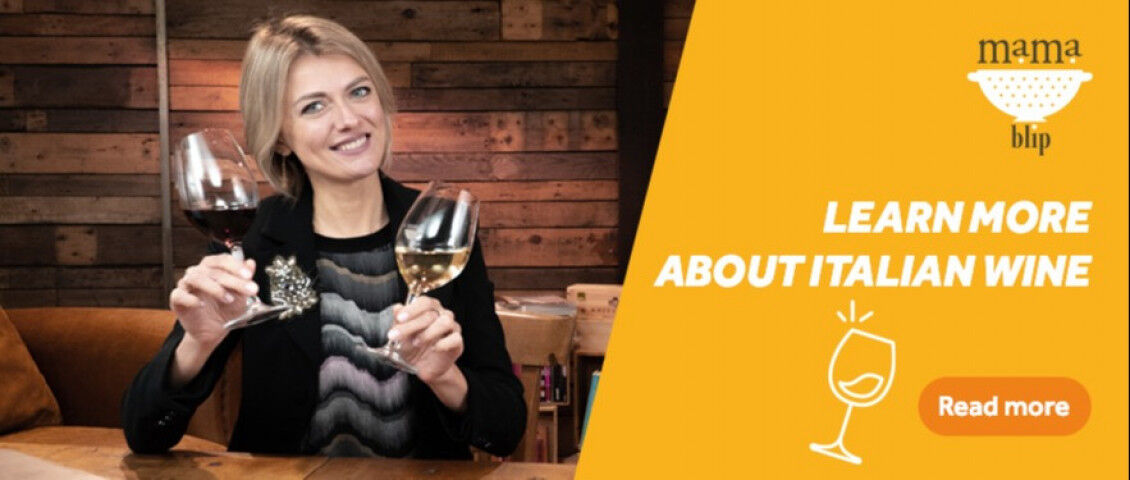 ---
---
all.sign in to leave a review